Homes for 14 families have been provided in Folkestone thanks to a collaboration between the district council and KCC's No Use Empty scheme.
A block of flats, consisting of 10 two-bedroom homes and four one-bedroom properties, have been built by Livingston Homes on the site of a redundant building in Radnor Park Road with the help of substantial loans from the NUE scheme.
KCC had worked with the company through director Leo Griggs previously on refurbishment properties in the town. To facilitate the flats development, it was agreed to make interest-bearing loans released in two phases totaling £810,000 towards total build costs of £1.3million, with a secured first charge on the site. The works were carried out by Alliance Building, another Folkestone-based company.
This was one of the first loans to be approved under the NUE new-build scheme funded by KCC Treasury Investment Funds. The loan was repaid in January 2023.
The flats have now been acquired by Folkestone and Hythe District Council which intends to let them at affordable rents to families on its housing waiting list.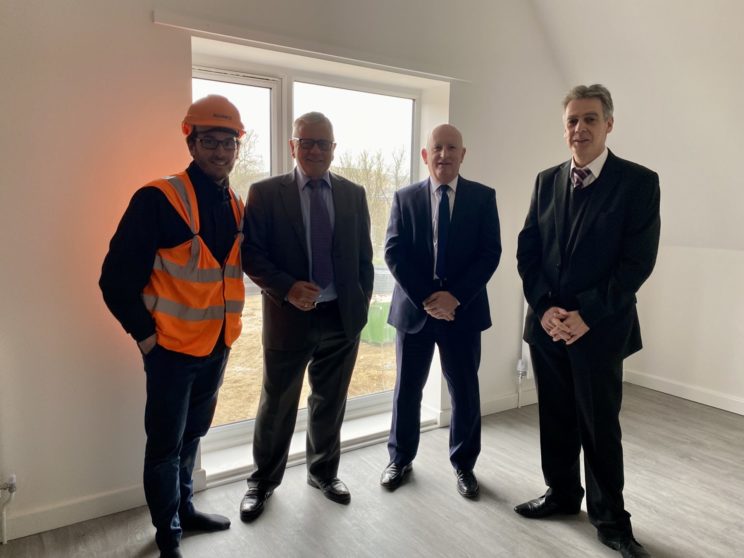 Cllr David Godfrey, Folkestone and Hythe District Council, said: "We are delighted to be taking these new flats into our housing stock to provide new, modern and energy-efficient homes at affordable rents for those on our waiting list.
"Thanks to support from Kent County Council through the No Use Empty funding, an empty, redundant building has been removed and replaced with 14 much-needed new flats."
Derek Murphy, KCC's Cabinet Member for Economic Development, said: "This was a major project with a large investment from our No Use Empty scheme and I am delighted with the outcome – brand new homes for 14 families on the district council's housing waiting list. It means success all round for the parties involved."