No Use Empty Initiative Loan Scheme – Medway – Please call Arron Nicholls for availability due to limited funds – 01634 333184

Medway Council have joined Kent County Council's No Use Empty (NUE) scheme which is the longest-running empty property initiative in the country.
Helping turn a house into someone's home
Cllr Howard Doe, Medway Council's Portfolio Holder for Housing, said: "I am pleased that we have joined the No Use Empty Scheme which will help bring empty properties in Medway back into use, providing much-needed homes for residents. I would encourage residents with empty properties to find out more about the scheme and how we can help them turn their house into someone's home."
The property must have been empty for more than 6 months
Loans are interest free subject to conditions – please note if you do request funds for further projects additional charges will apply
Loans will help landlords, owners and developers to meet the cost of repairs and improvements to bring their property back into use
Loans are awarded in units of £20,000 to a maximum of £60,000 per applicant
Loans to let – repayment period currently up to 3 years from the date a secured charge in favour of Medway Council being registered
Loans to sell – repayment period is on the sale of the first unit or within 24 months of a secured charge in favour of Medway Council being registered
Properties must be brought back into use within the agreed project timescales and made available to rent within 12 weeks after the project has been completed (or marketed for sale).
The loan will be made available as a 100% upfront payment (Larger loans are normally awarded on a phased basis)
The loan scheme will help create new, quality and sustainable accommodation across Kent
How do I apply for a loan?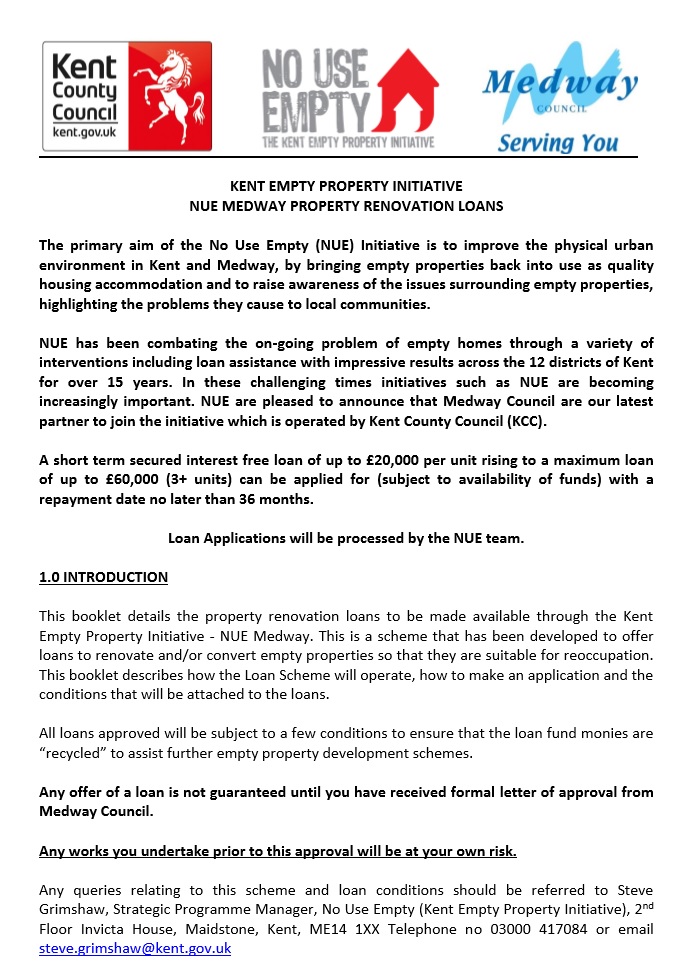 We would suggest that you download and read the loan guidance booklet, as this will give you important information on how the scheme works and what conditions you will have to meet to be eligible for a loan.
If you feel that you could benefit from a loan under this scheme or require further information or guidance, then please contact your local Empty Property Officer via the contact section
Formal application packs are obtainable on request from the Strategic Programme Manager or Project Officer for No Use Empty at Kent County Council.
PLEASE NOTE THAT ALL LOANS ARE ADMINISTERED ON A FIRST-COME FIRST SERVED BASIS AND SUBJECT TO FUNDING BEING  AVAILABLE. LOANS THAT ARE REPAID ARE RE-CYCLED TO SUPPORT NEW PROJECTS.