No Use Empty Commercial Phase II – Loan Scheme


The following local councils participate in the above scheme:
Ashford, Canterbury, Dartford, Dover, Folkestone & Hythe, Gravesham, Maidstone,
Sevenoaks, Swale, Thanet, Tonbridge and Malling, Tunbridge Wells
NUE  has secured £2m from the Growing Places Fund (GPF) and will provide short-term secured interest free loans to bring empty commercial properties back into use for alternative commercial, residential or mixed-use purposes across Kent.
The NUE Commercial Phase II project will build on the success of Phase I of the project which exceeded our expectations. A total of 15 empty commercial properties were brought back into use and 28 residential homes created.
The project will continue to focus on empty commercial properties in town centre locations (particularly in coastal areas of Kent), where secondary retail and other commercial areas have been significantly impacted by changing consumer demand and have often been neglected as a result of larger regeneration schemes.
The project has a target to return 18 empty commercial properties back into use and create 36 residential homes.
The project has a completion date of Spring 2026.

The GPF was established by the Ministry for Housing, Communities and Local Government (formerly the Department for Communities and Local Government) and the Department for Transport (DfT) in 2011. The aim of this funding is to unlock economic growth, create jobs and 'kick-start' house building at stalled development sites.
Criteria
The property must have been empty for more than 6 months
Loans are interest free subject to conditions – please note if you do request funds for further projects additional charges will apply
Loans will help landlords, owners and developers to meet the cost of repairs and improvements to bring their property back into use
Loan amount to be discussed with the NUE team as this will be dependent on availability of funds as each new project is approved.
Loans to let – repayment period currently up to 3 years from the date a secured charge in favour of KCC has been registered
Loans to sell – repayment period is on the sale of the first unit or within 24 months of a secured charge in favour of KCC being registered
Properties must be brought back into use within the agreed project timescales and made available to rent within 12 weeks after the project has been completed (or marketed for sale).
The loan will be made available as a 100% upfront payment (Larger loans are normally awarded on a phased basis)
The loan scheme will help create new, quality and sustainable accommodation across Kent
How do I apply for a loan?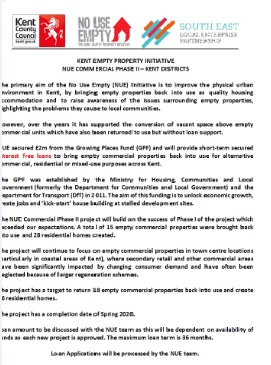 We would suggest that you download and read the loan guidance booklet, as this will give you important information on how the scheme works and what conditions you will have to meet to be eligible for a loan.
If you feel that you could benefit from a loan under this scheme or require further information or guidance, then please contact your local Empty Property Officer via the contact section
Formal application packs are obtainable on request from the Strategic Programme Manager or Project Officer for No Use Empty at Kent County Council.
PLEASE NOTE THAT ALL LOANS ARE ADMINISTERED ON A FIRST-COME FIRST SERVED BASIS AND SUBJECT TO FUNDING BEING AVAILABLE.